Purchase conveyancing guide
1.1 What is the conveyancing process when buying a property?
Below we have detailed the full conveyancing process step by step, For more information we have provided detailed explainer videos for each step. 
Conveyancing Process for Buyers Explainer Videos: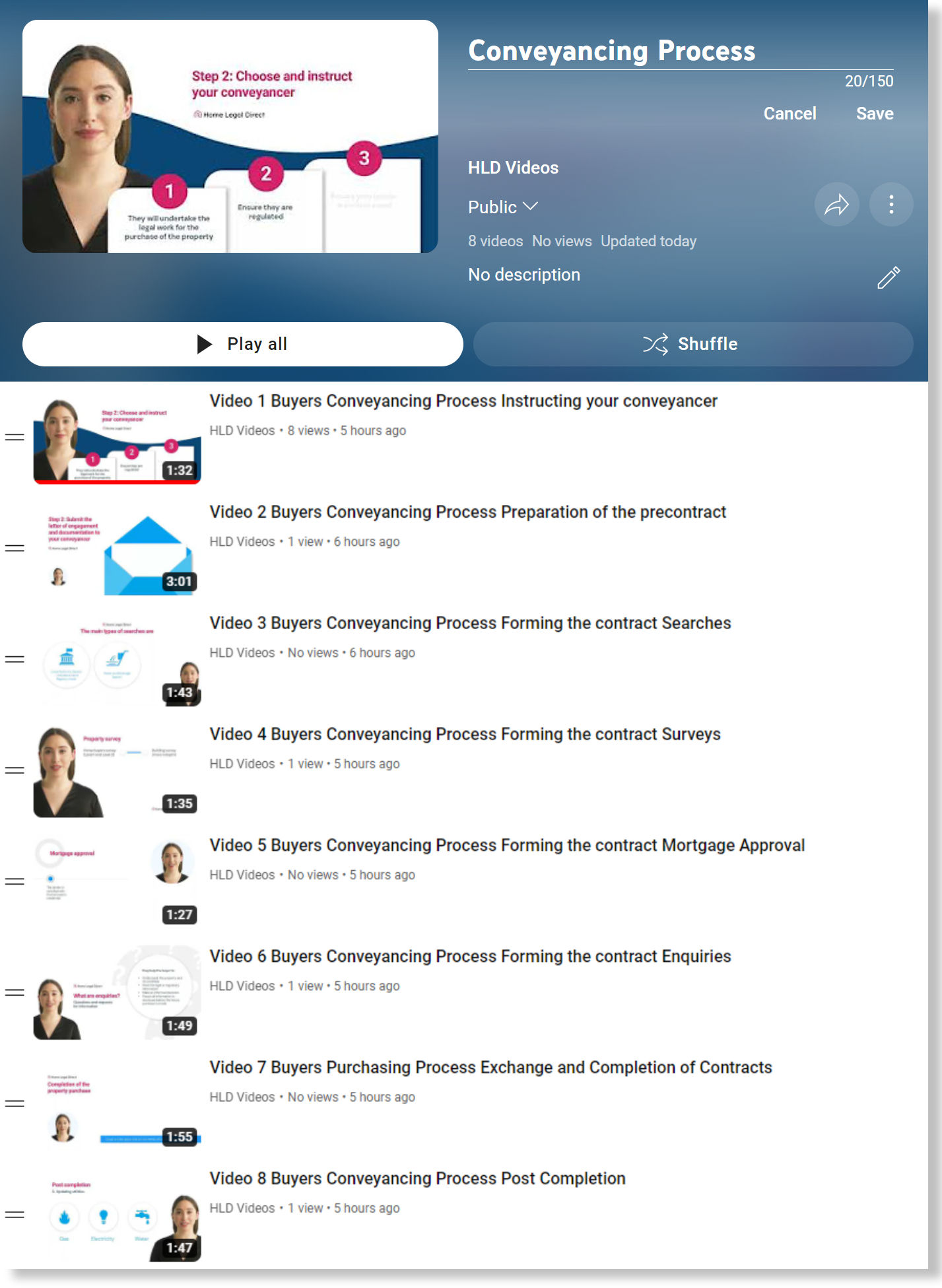 The conveyancing process when buying a property can be broken down into a series of steps as follows:
Step 1: Agree your mortgage in principle
Although not part of the conveyancing process, getting a mortgage offer in principle (unless you are a cash buyer) at the start of your property search is important. Not only will it allow you to know the property you can afford but it will allow you to move forward more quickly when you have found the house you want to buy.
Knowing your lender will allow you to check if your chosen conveyancer can act for your lender. If your conveyancer is not on your lenders panel, it could cause delays and additional fees as re-panelling may be necessary.
  Step 2: Choose and instruct your conveyancer
Instruction is the process of engaging a conveyancer to undertake chargeable work on your behalf for the purchase of your property.
Once you have found the property you wish to purchase and your offer is accepted, you will need to instruct your own conveyancer.
A file opening fee or deposit is typically required at this point as well as acceptance to the Terms and Conditions for that conveyancer or conveyancing network.
Step 3. Conveyancer sends the Welcome Pack
Following instruction, you will typically receive an introductory call or email from your conveyancer to go through the initial details.
You will then be sent a Welcome Pack which includes a Client Information Form and the conveyancer's terms of business, fees and Letter of Engagement.
Step 4: Provide your conveyancer details to your estate agent for Memorandum of Sale
The Memorandum of Sale confirms the offer price, property address and the name and address of yours and the seller's respective conveyancers.
Once you are happy with your conveyancer, it is important to provide their details to your estate agent. The seller will be required to do the same.
On receipt of this information, the sellers estate agent will produce a Memorandum of Sale.
Conveyancing work can only begin once the document has been sent to all parties.
Step 5: Sign and return documentation and Letter of Engagement (Terms & Conditions) to your conveyancer
The information you are required to provide includes your personal details, details about the property you are buying, any current mortgage information and confirmation on how you are going to fund the purchase of the property such as a mortgage or other method such as a gifted deposit or as a cash buyer.
You are also required to sign the Letter of Engagement. This must be received by your conveyancer before they can act on your behalf.
Your conveyancer will pass the relevant information to the seller's conveyancer.
At the same time, the seller will also be asked to provide detailed information about the property being sold. This includes completing a Property Information Form and a Fixtures and Fittings Form. They will also be required to submit any building related documentation such as planning documents and window certificates.
Step 6: Submit documentation for ID and anti-money laundering checks
As a buyer, you will be required to provide proof of funds as well as proof of identity, name and address.
Submit this documentation to your chosen conveyancer or, if you are using a conveyancing network, to their AML/Identity checking team.
It is good advice to check how your personal information is submitted, handled and stored.
Step 7: Pre-contract pack drawn up following the collation of buyer and seller information
Once the seller has completed their initial legal pack, it will be sent to your conveyancer to form the pre-contract. The time frame for this is dependent on how quickly you and the seller provide the information.
The legal work required to form the contract to reach exchange and completion now begins.
Step 8: Searches ordered by your conveyancer
Searches are ordered by your conveyancer or the conveyancing networks searches team.
The three most common searches required are Local Authority Searches, Water and Drainage Searches and Environmental Searches.
Confirm with your conveyancer what searches are required and check for search packages as this may save you money.
Searches can take an average of 6 weeks but turnaround times do vary depending on the Local Authority.
Step 9: Mortgage valuation and building surveys undertaken
Mortgage Valuation Survey:
To formalise your mortgage offer a valuation survey will be undertaken.
The mortgage valuation survey is carried out by a Royal Institute of Chartered Surveyors (RICS) valuer who is instructed by the mortgage lender.
Working on behalf of the lender rather than you as the buyer, the objective is for the bank to gain confirmation the mortgage amount is appropriate for the offer price. The valuation will look at any issues that could affect the value of the property.       
 
Home Buyers Survey or a more detailed Building Survey:
A Home Buyers Survey or Building Survey will identify any issues that may be problematic to resolve or affect the value of the property for example damp or structural defects.
There are survey fees associated with these surveys with the Building Survey being more costly. The type of building survey you require will depend on how concerned you are with the structural integrity of the property, or you could be instructed by your lender on which survey they recommend following the mortgage valuation survey.
Step 10: Your conveyancer obtains the approved mortgage offer
Confirmation of your mortgage offer from your lender will be confirmed and formalised with your conveyancer.
Step 11: Home contents and buildings insurance
At this stage, it is advisable to research your home, buildings and contents insurance as this will need to be in place when you exchange
Step 12: Enquiries raised between parties and ongoing review of information
Legal enquiries will be raised on your behalf to the seller's conveyancer.
These will include queries about property boundaries or building works on the property.
Supporting documentation will also be reviewed such as building completion certificates. If any is missing you will need to supply this or indemnity insurance may be necessary.
Your seller will also have identified items that will or will not be included in the sale. There is the opportunity to negotiate for any items to be included e.g. a washing machine or tumble dryer.
Exchange relies on all factors coming together from everyone within the chain e.g. searches are satisfactorily back, issues are resolved, all enquiries are satisfactorily answered and all buyer's funds are in place.
The length of time this part of the process takes will vary depending on the length and complexity of those within the chain.
Step 13: Exchange of contracts
The exchange and completion date is agreed upon with all parties once all those in the chain are in a position to proceed.
As a buyer, you will be required to make a deposit transfer to your conveyancer. Once this is done the exchange of contracts can take place.
Once the contract is signed all parties are legally bound to buy and sell their respective property. If either the buyer or the seller pulls out after exchange then they will be in breach of contract and financial penalties will apply.
Completion usually takes place one or two days after the exchange.
Step 14: Completion
On the day of completion, your conveyancer will transfer the funds to the seller's conveyancer and then to the seller.
Your conveyancing solicitor will pay stamp duty on your behalf, settle any estate agent fees and take the conveyancing fee payment.
Once funds are received into the seller's bank account, the seller's conveyancer will instruct the estate agent.
The keys will be released for your collection and the property is now yours.
Step 15: Post completion
Following the purchase of your property, your conveyancer will:
Provide you with a completion certificate
Register the property in the new owner's name at the Land Registry
Register the property details with the HMRC to confirm the amount the property sold for and the amount of stamp duty paid
1.2 How long does conveyancing take?
The conveyancing process can take on average around eight to ten weeks. However, each case is different and it can take less or longer, depending on circumstances such as the length of the chain, the complexity of the transaction and how quickly information is submitted and reviewed.
1. 3 How can I speed up the conveyancing process when selling a property?
As a buyer, the best way to speed up the conveyancing process is to complete and return all information quickly and accurately. Missing documentation, documents not signed correctly, taking a long time to answer enquiries and return information will all impact how long the conveyancing process takes.
1.4 What information is it important to know when buying a house?
Selling a property is complex and there is a lot of information that needs to come together to reach exchange and complete the purchase of your property. Understanding the key steps and having answers to questions such as What are searches? or What is a Property Information Form? can only be of benefit to you when speaking to your conveyancer, estate agent or mortgage lender.
Click here to find out the answers to everything you need to know to help the sale of your property go as smoothly and as stress free as possible.
2.1 How much does conveyancing cost?
The average cost for conveyancing will vary depending on the price of the property and the legal work involved. You can expect to pay anywhere between 500 and 1500. Conveyancing costs are split into the cost for the conveyancing legal fees, mandatory government costs such as stamp duty and disbursements such as search costs.
2.2 What is fixed fee conveyancing?
Fixed fee conveyancing is where a price is given for the necessary legal work required. Fixed fee conveyancing costs are the costs associated for the legal work undertaken and do not include the disbursements such as property searches and stamp duty. With fixed fee conveyancing, the price quoted is the price you pay.
2.3 What is no sale no legal fee conveyancing?
No sale no legal fee conveyancing means if a property sale falls through, the cost of the legal fees are not payable. It is also referred to as no move no fee or no completion no fee. It applies to the legal fees only. Disbursements and third-party costs such as local searches are not included.
2.4 What is a conveyancing quote?
A conveyancing quote is the starting point for your property purchase journey. Getting a quote is important to help you understand the costs involved and what the costs relate to. Consider speaking to an online conveyancing company as they offer conveyancing advice and have access to a panel of conveyancing solicitors that will suit your individual needs.
2.5 What should a conveyancing quote include?
A conveyancing quote should include a clear breakdown of the conveyancing costs applicable to your particular circumstances and property transaction. Below is a summary of what you can expect to see detailed on a conveyancing quote and a guide as to the costs. NB The costs are based on the average conveyancing costs on a 3-bed property and are for guidance purposes only.
FEE
AMOUNT
BUYING
SELLING
Legal Fees
 
 
 
Conveyancing Fees
400 to 2000
yes
yes
Government and mandatory disbursements
 
 
 
Stamp Duty Land Tax
0 - 12% Dependent on the purchase price of the property
yes
no

Search Pack

Local Authority Searches
Water and Drainage Search
Environmental Search

150 to 450
yes
no
HM Land Registry Search
3 - 10
yes
no
HM Land Registry Fee

330*

* based on a 300,000 property

yes
no
ID check
6 - 20
yes
yes
Bankruptcy Search
5 - 30
yes
no
Property Fraud
10
yes
no
Chancel Indemnity Insurance
20 - 40
yes
no
Office Copies
4 - 10
yes
yes
Bank Transfer Fee
20 - 30
yes
no
Transfer of Ownership
200 - 300
no
yes
Additional Items
 
 
 
Gifted Deposit
100
yes
no
Lifetime / Help to Buy ISA
60
yes
no
Unregistered Property Supplement
120 - 250
yes
no
Leasehold Property Supplement
200 - 300
yes
no
3.1 What is conveyancing?
Conveyancing is the legal process of transferring a property from one owner to another. It begins from when you first instruct a conveyancing solicitor and continues through to completion of your property transaction i.e., when keys are exchanged.
Conveyancing is required when buying and/or selling a property as well as forre-mortgages, transfer of equity and equity release. The steps will vary depending on which transaction is being undertaken.
3.2 What is a conveyancer?
The role of a conveyancer is to carry out the necessary legal work required for the legitimate sale and purchase of a property. The legal fee paid is for the conveyancers legal expertise and time in carrying out the property transaction.
3.3 Do I need a conveyancer when buying a property?
If a property is being bought with a mortgage, then a conveyancer is required as lenders will always require a conveyancer to carry out the property transaction. Cash purchasers on the other hand can avoid using a conveyancer. However, the purchase and selling of a property is complex and having professional legal guidance is important so even if a property is being purchased with cash, a conveyancer is still recommended.
3.4 What conveyancing advice is available for first time buyers?
Understanding how the conveyancing process works is key for first-time buyers. It can be a minefield with different paperwork and timescales and information all needing to come together to make the process run smoothly. Click here for advice for first time buyers.
3.5 Further Information
Further information can be found in our knowledge base below.