Remortgage guide
Content
What is the definition of a remortgage?
A remortgage is when you move your current mortgage to a new mortgage product with the same or a different lender. The proceeds are used to pay off any outstanding debt that might remain on the old mortgage so you effectively start again on a new mortgage which could have a different rate and/or different terms.
Below we have detailed the full remortgage process step by step, For more information we have provided detailed explainer videos for each step. 
Conveyancing Process for Remortgage Explainer Videos: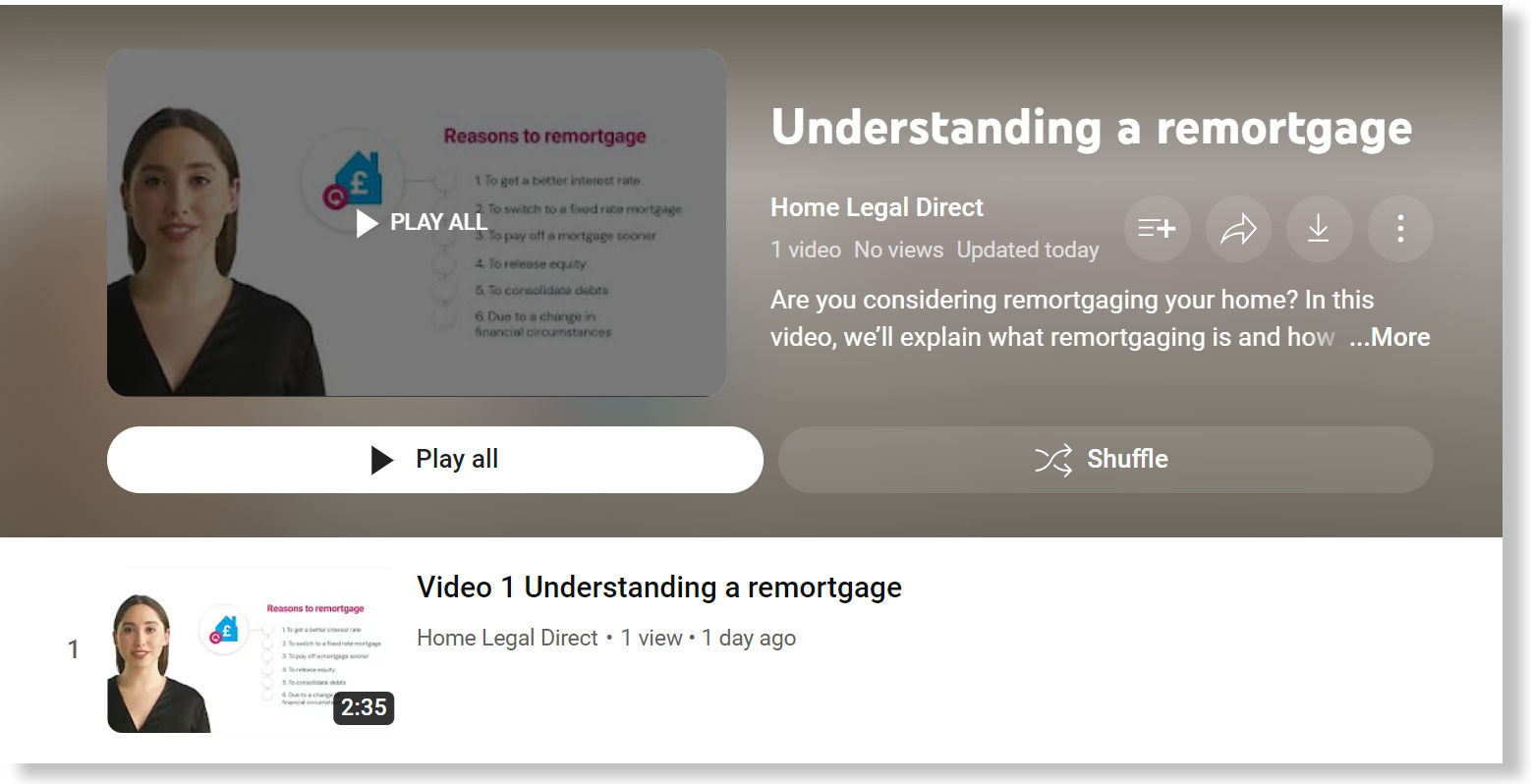 Why should I consider remortgaging?
Typically, remortgaging is conducted for one or more of the following reasons:
An existing mortgage deal is coming to an end
Many people remortgage when their fixed-term period comes to an end and there are better rates available with a different mortgage product rather than simply moving onto the current lenders variable rate. The status of the Bank of England interest rates can heavily impact this decision in terms of what mortgage products and what rates are available to limit monthly mortgage expenditure and get the best deal.
More competitive interest charges
In some cases, people will want to remortgage to take advantage of lower interest rates or to move to a fixed rate to allow for peace of mind in a climate where interest rates are increasing. Property owners can look to take advantage of mortgage lenders offering favourable rates for certain circumstances such as if the loan-to-value rate has increased and there is more equity within the property for example.
Remortgage to gain greater flexibility and reduce repayments
Some people want a different type of mortgage deal from the one they're currently on to gain flexibility and reduce payments. For example, it is sometimes possible to switch from a repayment mortgage to an interest free one which will reduce monthly repayments although in this case you will not be reducing the loan. Some mortgage products also allow for a mortgage payment break where you don't pay any mortgage for a particular period of time.
Consolidate other debts
Some people consolidate other types of debt into their mortgage by remortgaging. You could, for example, clear credit card debt by remortgaging and then paying the sum borrowed to your mortgage lender at a more favourable rate than you'd have found possible with another type of lender.
When is it a good time to remortgage?
This very much depends on personal circumstances but it's primarily either when a fixed mortgage deal is coming to an end and you can remortgage to get a better deal, or if you are within a mortgage term but it makes more financial sense to move to a new mortgage product that reduces monthly repayments or frees up your equity.
Remortgaging may be the only way to get these sorts of arrangements and could be a good option if you have a lifestyle change that means you need greater flexibility with your repayments. However, it is important to get financial advice and look closely into any redemption or other penalty fees that may apply if you remortgage.
Is an early remortgage possible?
Yes, early remortgages are possible but redemption fees will most likely be applicable. Some mortgage lenders will apply fees if you choose to end their mortgage product before an agreed period has elapsed even though they will be repaid in full by the new mortgage lender. This is because of the administration costs involved with processing mortgage loans.
How does a remortgage work?
Once you have found the right mortgage product, the process to remortgage successfully isn't particularly tricky and certainly no harder than applying for a mortgage in the first place. Typically, the process for borrowers will involve either remortgaging with their current lender or switching to a new one.
Remortgaging with your existing lender
The remortgaging process with an existing provider is usually the most straightforward way to get things done because all of the administration is kept in-house. For example, your current lender should already have the facts they need about your income and the value of your property. Given that this usually won't require additional legal work, remortgaging with your current lender is often referred to simply as transferring. To put it simply, borrowers will just be transferred onto a new mortgage product seamlessly.
Remortgaging with a new lender
Switching to a new mortgage lender isn't tough but it takes more effort than staying with your old one. For example, borrowers will be expected to produce up-to-date personal and financial information, including proof of their income and details of any other personal debt they may have. New mortgage providers will have a duty to confirm your credit score and to re-evaluate how much your property is worth in today's market. You will require a conveyancer to provide conveyancing services that offer the legal support required for the transaction. All though more involved, switching can be worth it if it means getting a better deal than would have been possible with your old lender.
Do I need a solicitor when remortgaging?
If you are staying with your current lender even though you are changing mortgage product, then a solicitor won't be needed. This is because the property title deeds will not change hands under such circumstances. However, if you move to another provider, then a solicitor will be required to carry out all of the associated legal work. This includes:
Ensuring the remortgage offer is sufficient to clear your current mortgage.
Verifying the identity of the mortgage applicant(s).
Confirming title deeds with the Land Registry.
Undertaking reasonable anti-money laundering checks.
Ensuring that mortgage applicants are solvent following a bankruptcy search.
Carrying out local authority searches to confirm local building regulations and any boundary issues that may be relevant.
Processing payments from the new lender to the old.
How long should you expect the remortgaging process to take?
This depends on how complex the mortgage application is, the type of property and if the remortgage is with a new or current lender. For most types of standard homes in the UK, between one and two months is the average time to allow for.
Remortgaging Calculator
Given most people want to save money on their current mortgages, you may want to find out how much you might be able to lower your monthly expenditure by when remortgaging. Use our handy remortgaging calculator to give you an idea.