Equity release guide
Content
What is equity release?
Equity release is a financial product that allows you to access and unlock money tied up in your property without moving or downsizing. Recently, it's become an increasingly popular option to access extra cash, especially among homeowners who've fully paid off their mortgages or those with a large amount of equity in their homes.
The two types of equity release products are a lifetime mortgage and home reversion scheme.
Below we have detailed the full equity release process step by step, For more information we have provided detailed explainer videos for each step. 
Conveyancing Process for an Equity Release Explainer Videos: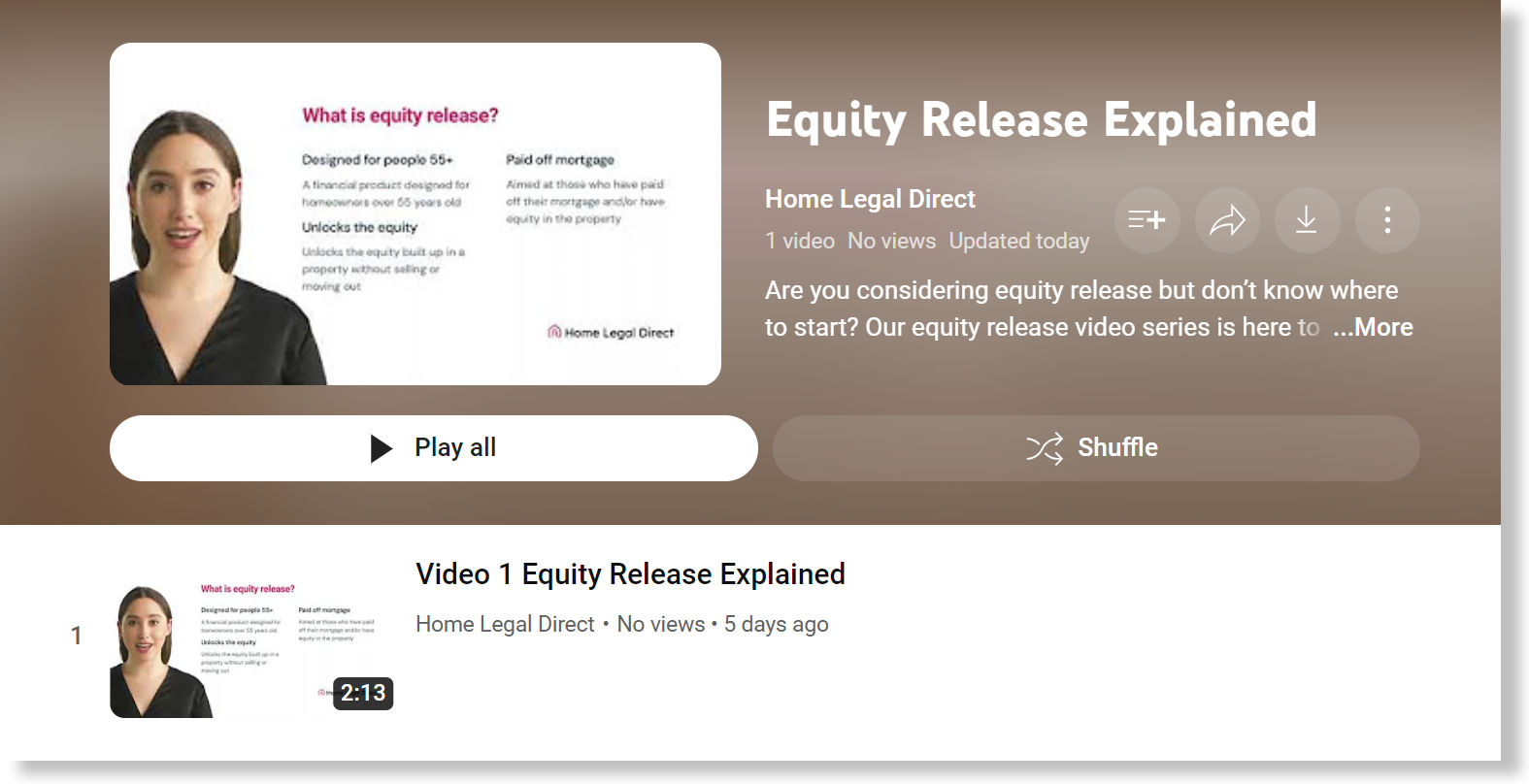 What is a lifetime mortgage?
A lifetime mortgage involves borrowing a tax-free lump sum of money in the form of a mortgage without losing your home ownership. The amount you borrow is repaid from the sale of your home either when you die or if you have to move out of your home and into care. Interest is applied to the loan.
Lifetime mortgages are usually available to homeowners aged 55 and above. Lenders give between 18% and 50% of the property's value based on age, so the older you get, the more money you can access with equity release. There is the option for an interest only lifetime mortgage where interest is paid monthly and a roll-up lifetime mortgage where the interest is compounded so there is no monthly payment.
What is a home reversion scheme?
This type of equity release scheme involves selling part of or your entire home to a provider for a lump sum amount or regular income but with a legal right to continue living in your home until you die or move into care. There is no monthly charge or interest accrued as the money received is from the sale of the home rather than a loan.
What is the difference between equity release and remortgage?
Equity release and remortgaging are two ways for releasing funds tied up in your property. However, the two options differ. The most significant difference is that a remortgage involves making monthly mortgage payments whereas equity release doesn't. Instead, you pay off the loan when your home is sold when you pass away or move into care. The other key difference is that equity release is usually available to those over the age of 55 whereas remortgaging is not age specific.
How can I use equity release?
With no monthly mortgage payments, equity release can free up extra cash when you may need it most, to supplement your retirement income or pension for example. Some people choose to use the loan on home improvements, consolidating other loans, buying a new car, taking a holiday or gifting children such as helping them get onto the property ladder by giving them a deposit for a new home. It is important to seek financial advice when considering equity release.
Is equity release a good idea?
Releasing equity can be a good option for people with property wealth who would prefer to access that money rather than having it tied up within a property. It can be used for yourself to make your retirement more comfortable or for children during their lifetime rather than wait until money is passed on through inheritance.
However, releasing equity and selecting the right product to do this needs careful thought so seeking professional advice before applying for equity release is vital. A qualified and registered financial advisor is the best person to discuss the different options. This will help you to ascertain whether it's the right option for you and which, if any, equity release product is most suited to your personal situation.
Do I need a conveyancer for equity release?
It's important to receive professional legal advice before releasing equity from your home. It is in fact a requirement under the Equity Release Council (ERC) that any equity release transaction needs to have a conveyancer acting on your behalf. The conveyancer will look at the risks, obligations and Terms and Condition of the equity release plan and provide their legal guidance throughout the process.
Consulting a conveyancer ensures you understand the products' financial and legal aspects. A conveyancer also protects you from unqualified advisors and unwarranted third-party influence. Before working with a solicitor, you want to ensure they're on the equity release lender's panel and meet all the requirements.
How does equity release work?
The steps for equity release can be broken down as follows:
Step 1: Seek advice from a financial advisor
Firstly, consult a qualified financial advisor. They will provide a personalised suitability report based on your eligibility and determine whether equity release suits you. Your financial adviser will recommend the best equity release product based on your current financial position, needs, and wants. At this point it is important to consider your options and consult with others who may be affected by your decision such as family members.
Step 2: Instruct conveyancer
If you'd like to proceed, you will need to instruct a conveyancer who specialises in equity release to represent you and provide the independent legal advice you need. The solicitor will draft an application on your behalf and submit it to your preferred lender.
Step 3: Receive valuation and offer
It is a standard part of the equity release process for the lender to arrange a valuation of your property before they can proceed further. Once this has been done and assuming the findings meet the requirements from the lender, the lender will approve your application, sending the terms of the equity release to you via your solicitor.
Step 4: Receipt of funds
If satisfied with the offer and you are ready to proceed, your lender will release the money through your solicitor based on the initial agreement. The funds can be released as one lump sum or smaller regular payments, depending on your preference.
How much does equity release cost?
The overall cost varies depending on the amount of equity you want to release from your home, the interest rates charged by the lender, and the arrangement fees involved, including legal costs for your solicitor, application fees, and sometimes surveyor fees. If you opt for a lifetime mortgage to release equity from your home, the interest rates will depend on how long it runs for and the plan.
Advantages and disadvantages of equity release
There are a number of advantages and disadvantages to equity release which vary depending on if you release equity via a lifetime mortgage or a home reversion scheme.
Life Time Mortgage
Advantages
Access to tax-free cash
Freedom to unlock funds to spend on what you want without the need to move home
Continue to own your home and so you continue to benefit from any increase in your property's value
There is no monthly payment if using a roll up life time mortgage scheme
No need to sell and downsize
You retain home ownership until you die or move to a long-term care facility
Not likely to repay more than your property's value
Disadvantages
It can reduce the value of your estate and the amount you can leave as inheritance
There are redemption penalties if your circumstances change and you want to sell your home
The interest on the loan can compound quickly when on a roll up lifetime mortgage
Interest repayments could add to your overall monthly outgoings if on an interest only life time mortgage plan
It may make you ineligible for means tested benefits
The value of your home may not be as much as if you sold it on the open market
Home Reversion
Advantages
It gives you access to cash which may make your quality of life better
You can stay in your home even though you no longer own it
The cash you receive is a tax-free lump sum
There is no interest to pay as the money is not a loan
Disadvantages
You no longer own your home. The lender owns all or part of your home
You will likely receive less for the sale of your home than if you sell the home on the open market
You will have lost your property as an asset if you wish to move and buy another property
You will not have a property to leave as part of your estate when you pass away
It could affect your entitlements for means tested benefits
Is equity release safe?
First and foremost, it is essential to weigh up the pro and cons as to whether equity release is right for you and to seek independent financial advice. It is also vital to ensure that any equity release product you are considering is regulated by the Financial Conduct Authority (FCA), and your lender is an active member of the Equity Release Council. The Equity Release Council was established in 1991 to promote safe equity release products and protect homeowners from fraud.
It is also important to note that once you have taken out the agreement on an equity release plan that you are bound by a legal contract and therefore you must adhere to the terms and conditions of your equity release product plan.
Need an equity release calculator?
Are you planning to release equity from your home? Consider using the Home Legal Direct calculator to determine how much money is tied up in your home.