The path to homeownership is filled with possibilities, and one of the most crucial decisions you'll make is choosing the right property. In this chapter, we'll help you navigate the sea of options, maximize cost-effectiveness, and open your mind to the variety of properties available. Let's get started on your journey to finding the ideal place to call home.
Types of Property: Old or New?
The first fork in the road when selecting a property is deciding between an existing home and a new build. Each option has its unique characteristics and considerations.
Existing Property:
Potential for Value Growth: Older homes tend to increase in value over time.
Flexibility in Negotiations: You can negotiate with a person selling their home, making room for bargains and flexible moving dates.
Customization: You have the freedom to make changes to the property, such as obtaining planning permission for extensions.
Character Features: Older homes often have charming character features.
Established Neighbourhoods: You get a sense of the community and local amenities.
However, keep in mind that older properties may come with some challenges, such as higher maintenance costs and the potential for housing chains and gazumping.
New Builds:
Brand New: Enjoy the freshness of a brand new property.
Modern Locations: New builds are often located in central areas.
Personalization: You might have the chance to influence finishes and features.
Low Risk Transactions: No sellers mean no housing chains, leading to clear completion dates.
Compliance with Building Regulations: New builds adhere to modern building standards, including energy efficiency.
On the downside, new builds can be perceived as pricier, and there might be warranty issues if something goes wrong. They also need time to settle, which may affect some post-purchase activities.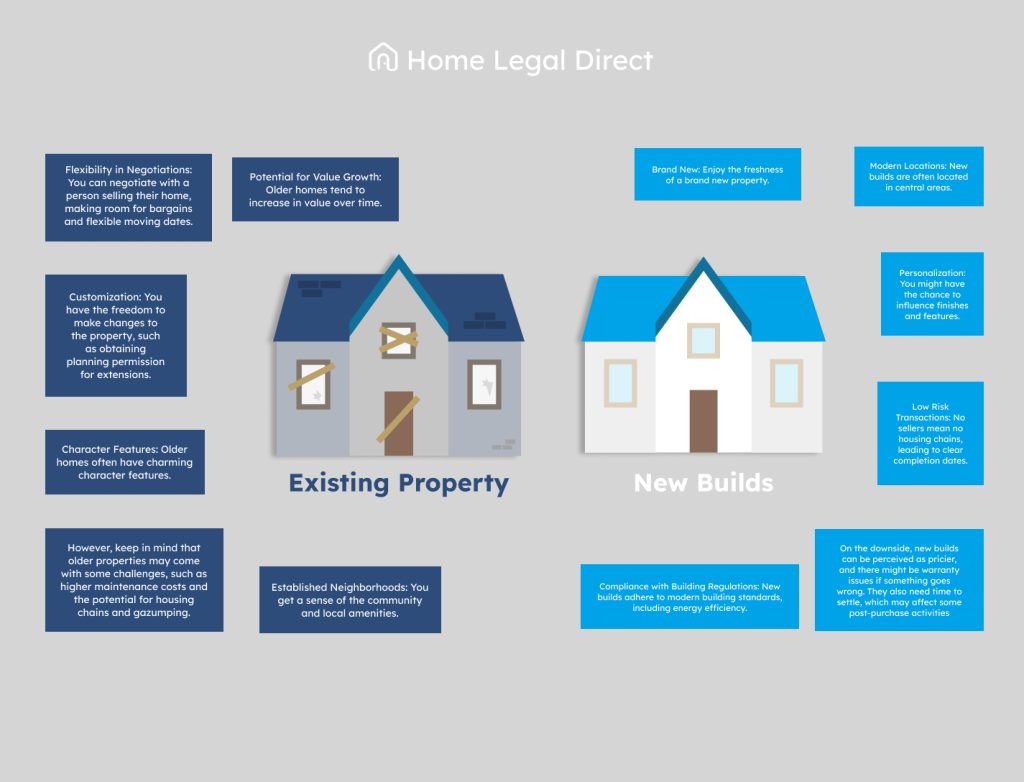 Leasehold vs. Freehold: What's the Difference?
Another important decision to make is whether you'll opt for a leasehold or freehold property. While flats are typically leasehold, houses can also fall under this category. Consider the length of the lease and potential extra charges when deciding which option suits your needs.
Freehold: You purchase the property and the land it sits on.
Leasehold: You own the property for a set time, but not the land beneath it. Leasehold properties often come with extra costs like ground rent and service charges, which can vary significantly and increase over time.
It's crucial to be aware of these distinctions as they can affect your long-term homeownership experience.
How to Choose Your Ideal Property
Selecting the perfect property involves careful consideration of various factors. Ask yourself what you need in a home now and in the future. Think about factors like space, potential for expansion, and must-have amenities. Be prepared to compromise on some luxuries to ensure your new home aligns with your long-term goals.
Viewing Tips:
Before you visit properties, study the floorplans and assess whether they meet your requirements. Take notes and pictures to keep track of your impressions. Don't view homes that are beyond your budget, as falling in love with them can skew your perception.
During viewings, inquire about the seller's motivations, possibilities for property extensions, and the timeframe for the move. Keep your emotions in check, as sellers are more likely to negotiate with a composed buyer.
Remember to Consider:
A property is not just an investment; it's a place you'll call home. Ensure that your chosen property meets both criteria. If you're uncertain about a property's practicality, seek the opinions of trusted friends or family members.
Remember, your journey to homeownership is filled with exciting opportunities. By choosing the right property and staying open to diverse options, you can turn your dream of owning a home into a reality. Don't let perceived barriers hold you back—start your journey today and embrace the prospect of becoming a homeowner!