House prices. The latest figures, facts and trends
Published 3rd March 2023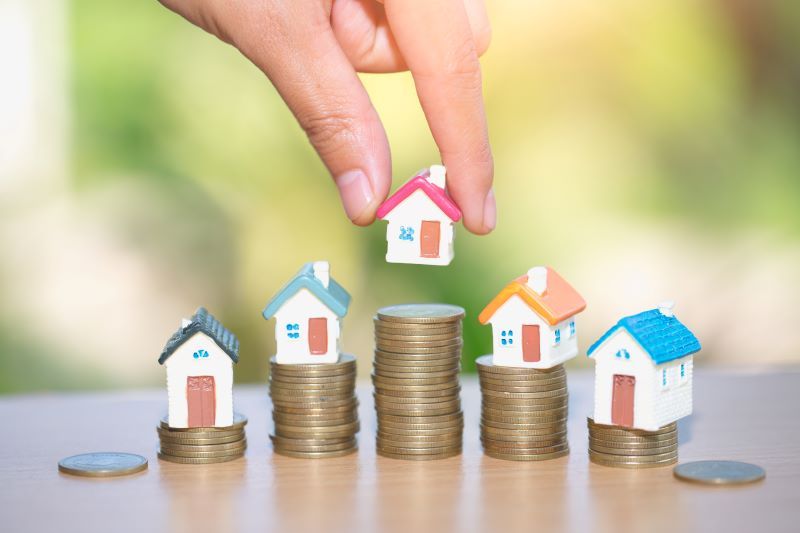 In a matter of just a few months' time, December 2022 and January 2023 may be seen as key months for the housing market.  
After years of fairly sustained growth in the sector – despite some notable localised early dips in house prices in parts of London last summer – some analysts are now saying with reasonably justified confidence that the UK's housing peak has been reached.  
Although this is usually qualified by saying that no bubble has been burst and that dramatic falls in asking prices are now to be expected, it does appear as though market conditions have changed after a few months of stagnation.  
So, is the UK really on the way down in terms of its housing market? If so, is this the full picture and what might regional variations tell us? Indeed, could a resurgent British economy start to inflate house prices once more after a temporary dip?  
In this article, we'll look to unpick some of the finer points about the housing market today and figure out what the future could have in store.  
Comparing house prices to previous periods
In December 2022, house prices in the UK fell by an average figure of over £1,275 compared to the previous month. Taken as a whole, that's a significant drop. However, the picture isn't quite as clear-cut as all that. Why? Because across the regions of the UK, Land Registry data showed that four areas enjoyed month-on-month growth.  
Indeed, there were certain locations that could be considered true hotspots where asking prices are significantly bucking the trend.  
Data shows that Ceredigion in Wales and Fylde in Lancashire saw the greatest amount of growth between November and December last year.  
Growth wasn't just to be found outside of these areas either. In the Southeast region, Tower Hamlets, Canterbury, Maidenhead, Harlow and Watford all saw an upturn in sales prices of 2 per cent or more.
Annual increases were up overall, as well. The figures show that the £294,329 average house price in the UK was up almost 10 per cent compared with December 2021.  
In some places, the annual growth rate was even more marked. For example, house prices in the Northeast rose by £17,130 over the course of the previous year, an upturn of over 11 per cent.  
Consequently, although monthly prices have seen a modest decline taken as a whole over the last two months, they would have significantly further to get down to where they were in 2019 and the early part of 2020 when the average UK asking price was about £24,750.  
Nevertheless, Nationwide's most recent data points to a 0.6 per cent average fall in January from December's figures so it would be reasonable to expect further modest falls in February and March.
Drivers for change
House prices haven't started to fall in December and January in a vacuum. The reason they've altered is because of the wider economic conditions. Of course, the much-vaunted cost of living crisis has meant that, for some, their income hasn't gone as far and they've, therefore, needed to downsize.  
In turn, this has led to more favourable market conditions for buyers. With more sellers than buyers, falls in asking prices can always be expected.  
Equally, the increase in mortgage rates has led some homeowners to think about how to reduce their borrowing commitments. Those who have seen their fixed-rate deals come to an end in recent months might have thought it was more prudent to move and cash in on their property growth while they still can.  
Indeed, the rising costs of borrowing have made it less affordable for some would-be first-time buyers to get on the property ladder. In turn, that has led to a suppression of the market but only to a degree.  
As interest rates start to bite and certainly if more hikes are announced by the Bank of England, then this could become a more significant factor in the determination of house prices over the course of 2023.
Regional and local variation
As mentioned, house prices didn't fall universally in the UK. Indeed, some regions enjoyed some remarkable growth.
According to the Land Registry's House Pricing Index (HPI), the East Midlands saw the greatest growth over the last calendar year with an upturn of 12.3 per cent. The Northwest, Yorkshire and Humberside and the Northeast all saw growth of over 11 per cent. Furthermore, the West Midlands and London both saw double-digit growth, too.
However, looking at the HPI's monthly comparison figures, the picture is somewhat different. Wales, the Southeast, Yorkshire and Humberside and the East Midlands were the only four regions to see growth. Outer London and the West Midlands saw no growth at all.  
By comparison, inner London, East Anglia, the Northwest and the Northeast all saw negative growth. This trend was most noticeable in the Southwest where monthly house prices dropped by as much as 1.8 per cent.
It is important to note that local variations in the housing market mean that even when you break down the picture into regions, you still won't get a true picture.  
For example, the London Borough of Tower Hamlets saw growth of over 4 per cent while inner London as a whole saw none. The same goes for Exeter which lies in the heart of the Southwest region. Despite this part of England performing as the poorest of all the regions, house prices in the city rose by well over 3 per cent.  
Indeed, despite the negative growth noted in the East of England over the last reporting month, house prices in Cambridge were among the best performing of anywhere in the UK in the previous year, growing by about 16 per cent or so.
Final thoughts
We believe pressures on the UK economy may continue to suppress house prices in 2023, especially if fuel costs and mortgage rates remain high. That's to be expected, of course. However, the potential easing of trade with the EU could help to boost the UK economy and lead to a return to growth in the housing market this year.  
If so, it is likely to be a complex picture with highly localised variations. Consequently, it is never a good idea to look at the headline growth rate alone, whether it is positive or negative, but to delve a little deeper.